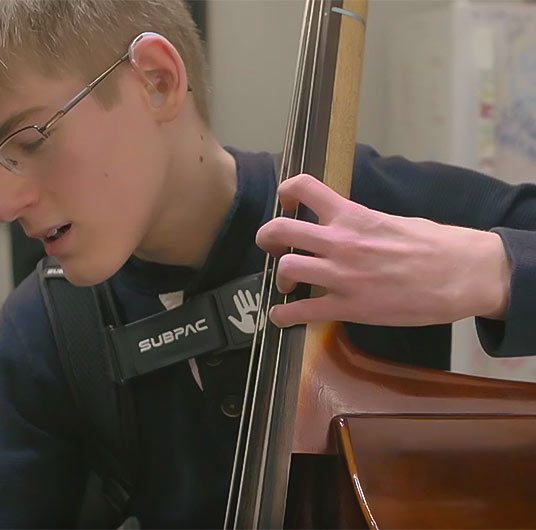 Recording artist Nick Chiari, also known as Grabbitz, recently purchased a SUBPAC M2 for an exceptional bassist Mitchell Law. Mitchell, a 15-year-old high school student from Buffalo NY, is an individual who has autism spectrum disorder with severe hearing and vision impairment, yet is a musician. Practicing upwards of 5 hours a day, Mitchell's heightened music senses allow him to play by feeling the bass note vibrations. He lives to feel bass. Mitchell sits first chair bassist in his school orchestra and he also writes his own music. After Mitchell receive the SUBPAC, he wrote a letter to Nick to sincerely thank him for the gift of bass. Nick then invited Mitchell to his studio to share a special day.
At SUBPAC, we believe that by increasing people's connection to the joy of art and music we will continue to break down barriers and develop new ways to enable humans to grow, live, love and authentically connect.
SHARE to spread Mitchell's story, in order to raise awareness about Autism.
For more info on Autism: autismspeaks.org
For more info on Grabbitz: grabbitzmusic.com
Helping the deaf community experience sound in brand new ways.
The Echo Society Presents: http://www.FeelHarmonic.org
1) FeelHarmonic (non-profit) connects creatives, from a variety of fields, to collaborate on bringing the deaf community new ways to experience sound.
2) We then develop hands-on events that engage and excite while fostering a sense of exploration, communication and connection.
3) These events are brought to schools, educational institutions and communal centers.