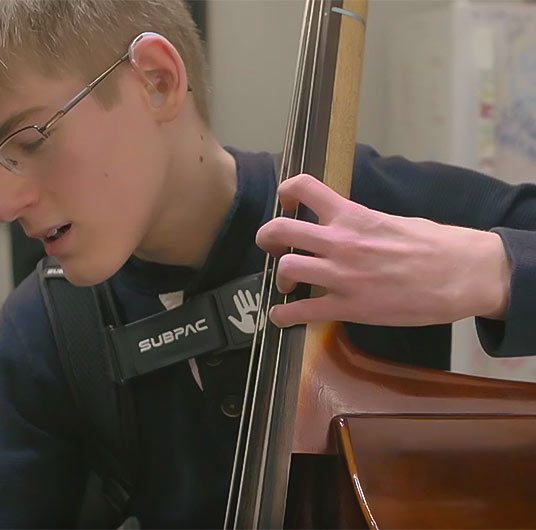 Recording artist Nick Chiari, also known as Grabbitz, recently purchased a SUBPAC M2 for an exceptional bassist Mitchell Law. Mitchell, a 15-year-old high school student from Buffalo NY, is an individual who has autism spectrum disorder with severe hearing and vision impairment, yet is a musician. Practicing upwards of 5 hours a day, Mitchell's heightened music senses allow him to play by feeling the bass note vibrations. He lives to feel bass. Mitchell sits first chair bassist in his school orchestra and he also writes his own music. After Mitchell receive the SUBPAC, he wrote a letter to Nick to sincerely thank him for the gift of bass. Nick then invited Mitchell to his studio to share a special day.
At SUBPAC, we believe that by increasing people's connection to the joy of art and music we will continue to break down barriers and develop new ways to enable humans to grow, live, love and authentically connect.
SHARE to spread Mitchell's story, in order to raise awareness about Autism.
For more info on Autism: autismspeaks.org
For more info on Grabbitz: grabbitzmusic.com
The Muse Seek Project is an organization that breaks barriers between music and Deaf children, and together with music event company ShaveUrLegz, the first Silent Disco ever made in the Dominican Republic happened on May 2nd at the Juanillo Beach Music Festival 2015 celebrated in Cap Cana, Dominican Republic.
Juanillo is known to be a beautiful white sand beach and also a unique location for the hottest events like this special Silent Disco divided in two different scenarios: during the day it was specially for Deaf children, their parents, teachers and special guests; and during the night for adults.
It's always been said that music is the universal language; but this Silent Disco featuring SUBPAC proved it. No speakers, no headphones, no way to hear the music; if you were a Deaf or hearing person, it didn't make a difference because everybody was connected by the experience of feeling the music. The powerful image of a mother and her Deaf child wearing SUBPACs and dancing together to the same rhythm inspired many to join and support The Muse Seek Project's cause to create inclusion and music equality.
This special Silent Disco continued at night as part of the music festival in which more than 3,000 people went to enjoy DJs and musicians playing at the beach. With a sponsorship from SUBPAC, Red Bull, Silent Storm and LSTN headphones; Dominican Republic had its first Silent Disco in which local DJs played all night long such as MKNI, a known and respected Dominican DJ and producer.
I've never seen people enjoying music in a way they couldn't even imagine it was possible. When I started The Muse Seek Project two years ago I was completely sure that the music experience was so much more than just listening; but to be able to prove it and introduce Dominicans to SUBPAC is truly wonderful.
The Ministry of Culture of the Dominican Republic shares the project's vision and will support the initiative to have SUBPACs in schools for the Deaf. Dominicans are inspired by how much it can be done with this game changer device, now they want more.
It's safe to say Dominican Republic is spreading bass!!!
Helping the deaf community experience sound in brand new ways.
The Echo Society Presents: http://www.FeelHarmonic.org
1) FeelHarmonic (non-profit) connects creatives, from a variety of fields, to collaborate on bringing the deaf community new ways to experience sound.
2) We then develop hands-on events that engage and excite while fostering a sense of exploration, communication and connection.
3) These events are brought to schools, educational institutions and communal centers.
This weekend saw us working with London-based charity Incloodu at their annual deaf arts festival at Rich Mix London.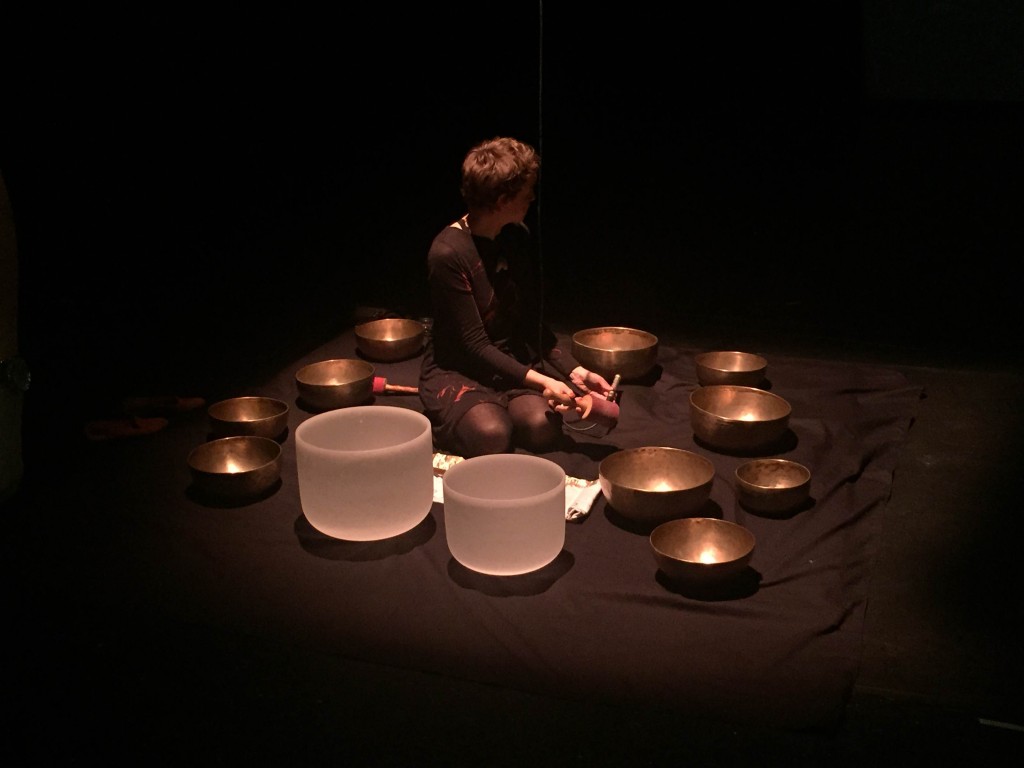 We collaborated with arts collective Analema Group to produce KIMA, an audio visual piece that couples an immersive musical performance with Tibetan Singing Bowls and a Taiko Drum. This was complimented with a morphing visual that reacted in real time to the music to give the audience a visual representation of the sound waves being produced.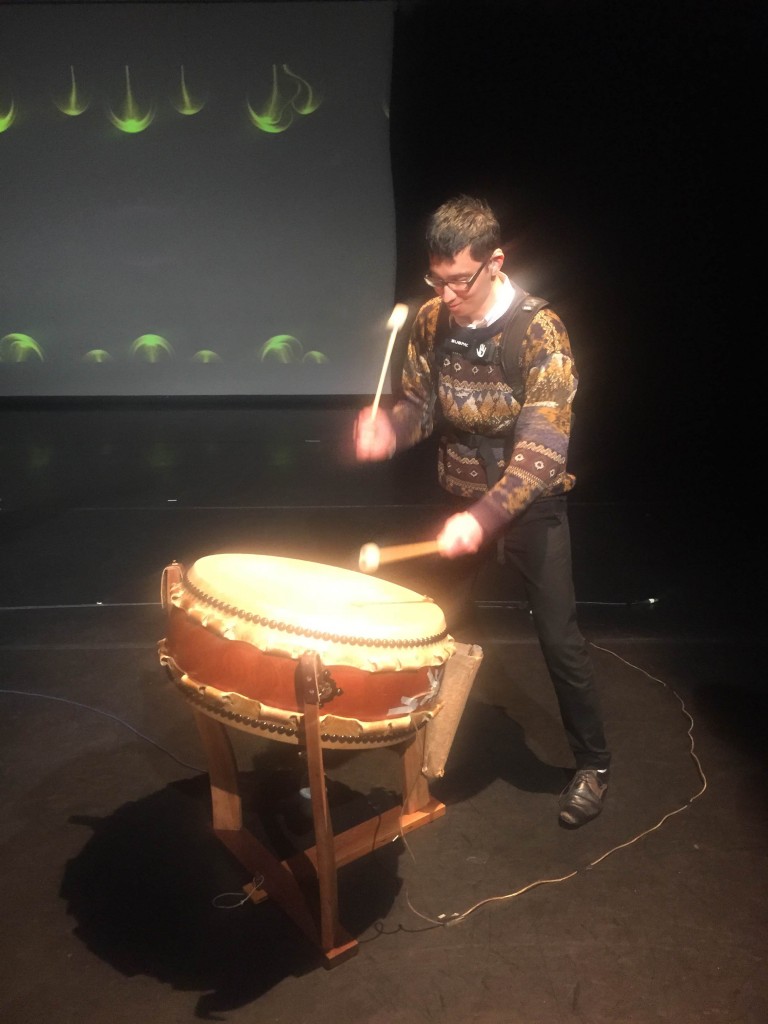 We are always wowed by the reaction from deaf people experiencing the SUBPAC for the first time, and this time was no different. Keep an eye on our social media for details of where you can catch us next.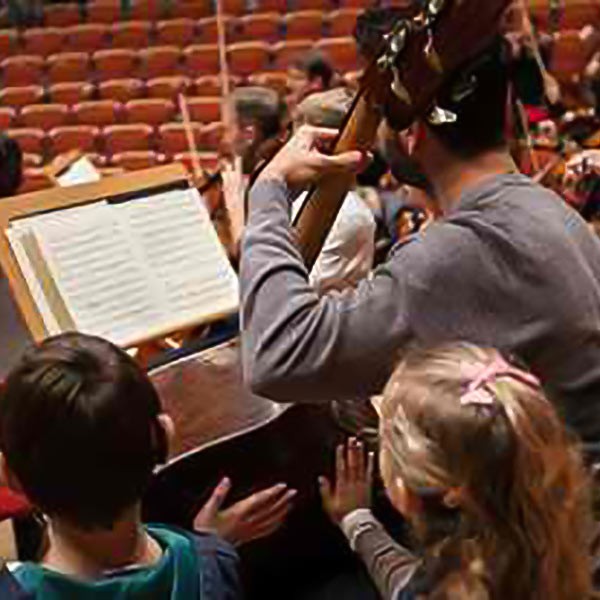 Mahler Chamber Orchestra scheme aims to open up world of music to hearing-impaired children across Europe
Sliding on their sock-clad feet, a gaggle of children squeeze themselves under the belly of the Steinway as the Norwegian pianist Leif Ove Andsnes invites them to place their palms on the soundboard and feel the vibrations.
When Andsnes launches into a stormy cadenza from the second movement of Beethoven's 3rd Concerto, the children in their makeshift den squeal with delight and surprise. Some point to the pianist's quivering trouser leg and his shiny black shoes pressing on the gold pedals. Others shiver at the strength of the vibrations that run through the gleaming grand piano into their bodies – a sensation that 11-year old Arijan Zagragja later describes by producing a loud and elongated "brrrrrr" while running his fingers over his body in a rippling motion.
All of the eight- to 11-year-olds present in the Cologne Philharmonic have some sort of hearing disability and several of them, such as Arijan, are profoundly deaf. The children have been taken under the wings of the musicians of the Mahler Chamber Orchestra who, together with Andsnes, have launched Feel the Music, which aims to open up the world of music to hearing-impaired children across Europe.
"When the idea was first mooted, I thought what can they possibly get out of the music," Andsnes says. "But after experiencing how the children react to the music I quickly realised I had been far too closed-minded."
Studies show musical vibrations can have as much of an impact on the brain as real sounds, and that exposing deaf children to music early on can stimulate their brain music centres. The MCO and Andsnes have teamed up with Paul Whittaker, a profoundly deaf musician, who runs the UK charity Music and the Deaf.
"It's very rare that deaf children get the chance to work together with professional musicians, and especially with an orchestra," Whittaker says. "Not only does it open up a new world to children with hearing handicaps, it also takes musicians out of their comfort zones and makes them think anew about how they hear and understand music."
Deafness, he stresses, "is no barrier to making or appreciating music. You can appreciate musicality in a multitude of ways, through vibrations, gestures, body movements, rhythms and by reading music on the printed page."
Feel the Music is part of the MCO's Beethoven Journey concert series, which it is taking to 40 European cities between now and 2015. Part of the project examines the way Beethoven's own deafness – which began when he was in his 20s and left him profoundly deaf and his career as a virtuoso pianist in tatters – not only brought him to the brink of despair but greatly influenced his compositions.
"When he wrote for the piano, the deaf Beethoven became obsessed with being able to feel the vibrations, so he created lots of trills – the fast repeated notes next to each other. He also used long stretches of pedal to create huge vibrations of sound as well as extreme registers, very high up and low down notes," Andsnes says. He believes these techniques make Beethoven's music more communicable to those with impaired hearing.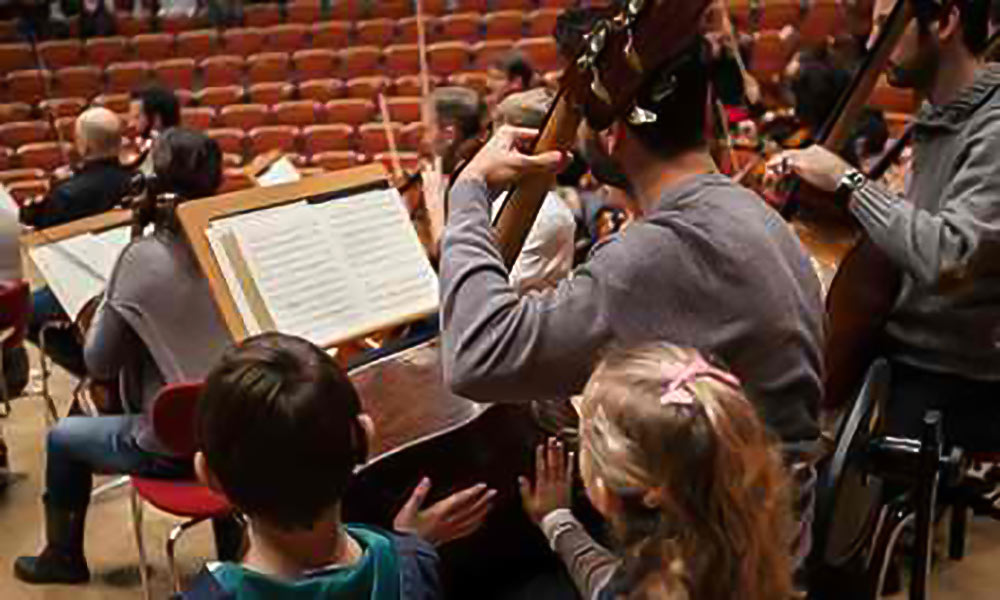 Children touch the back of an instrument as the orchestra plays. Photograph: Timothy Fadek for the Guardian
During the Cologne workshop the pianist furnishes the children leaning on and sitting under the piano with plenty of trills and long pedal sections. "When he presses a key, the hammer strikes a string which then vibrates," says Fabian Schurf, 10, who has been profoundly deaf since birth. He stands at the piano resting his arms on the strings. "The feeling runs up my arm and down into my feet. It's all warm and fuzzy, and feels quite good," he says through his teacher in sign language.
Leon Zagrija, nine, who has partial hearing, enjoys the kettle drums best of all. "I feel them in my stomach," he says as the class is asked to spread out and seat themselves randomly between the musicians on the stage. "It makes the hairs on my arms bristle." He later goes to stand by a double bass, clutching the back of the instrument as if he were hugging a large soft toy, and touching the spike on the wooden floor which emits enormous vibrations.
Eight-year-old Teresa Holtkamp, whose hearing was impaired due to numerous infections of the middle ear as a baby, is also drawn to the drums. Her mother, Ulrike, says she has already seen over several years how music therapy has helped to improve her daughter's ability to communicate. "It's enabled her to develop skills of perception and expression. Today listening to the Beethoven she was very aware of when it was joyous and mournful," she says.
Emma Schied invites the children to blow into her oboe, whose vibrating reeds tickle their lips, and to feel the whoosh of air coming through its bell. "It makes me tingle," says Azad Tabur. Schied, one of the 45 core members of this exuberant travelling orchestra, says involvement in Feel the Music does not just influence the children. "Our ensemble travels around the world and performs with the best conductors and soloists. But this will probably be some of the most important work we will ever do," she says.
"If you're giving children with hearing disabilities access to a better way of expressing themselves through music, the experience can only enrich you as a musician and bring you closer to the music."
Later, a tour of the the Philharmonic offers the children a glimpse of the engine rooms of a concert hall, including the conductor's shower, the cough sweet supply, the stage manager's booth, and the artists' dressing rooms. Then, with strict instructions not to clap between movements, the children take their seats in the heart of a fee-paying audience, and are urged to lean on the wooden arm rests to soak up more of the vibrations as they watch and feel the MCO and Andsnes perform.
At the close of the 3rd Concerto, Azad, who cannot detect any notes in the upper register, springs to his feet and wolf whistles in the direction of the stage, to the mild embarrassment of his dad but to the obvious delight of the musicians, some of whom wave back.
• The Mahler Chamber Orchestra and Leif Ove Andsnes will perform The Beethoven Journey at Symphony Hall, Birmingham, on Tuesday 20 November from 8pm. The concert will be broadcast live on BBC Radio 3.
Give a Beat is a social justice organization that is focused on our privatized prison crisis.  A Positive Spin:Remixed was an event that gave SUBPAC a chance to connect students through music and academics in hopes of breaking the school to prison pipeline.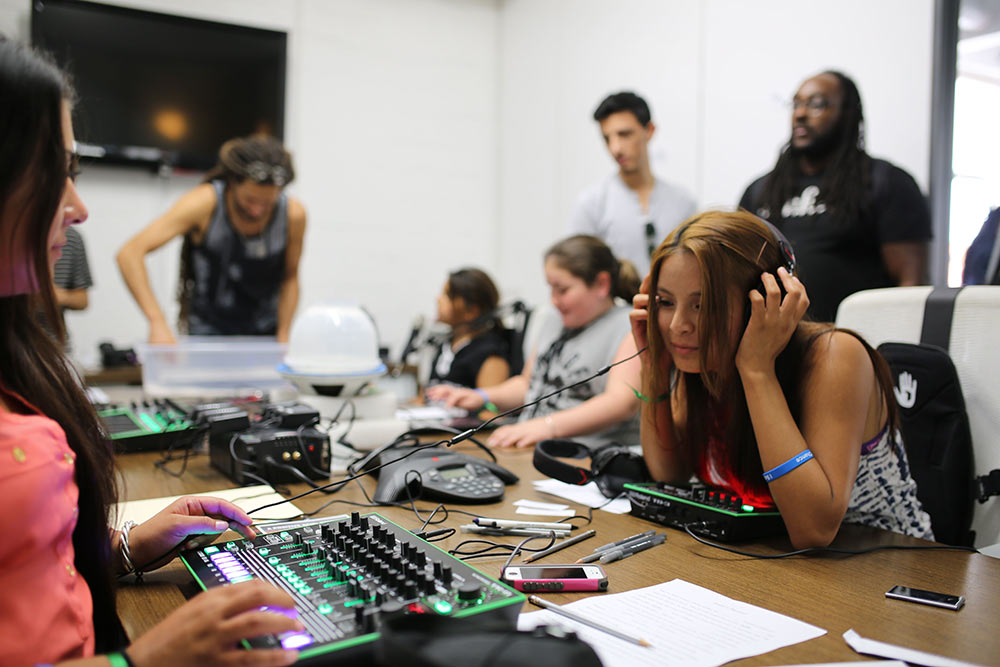 The SUBPAC education team held a youth workshop at the Give A Beat Launch Event to demonstrate sound physics concepts to students from local Boys and Girls clubs.  Students learned how sound travels in different mediums with "learning stations" using several Roland Aira synthesizers.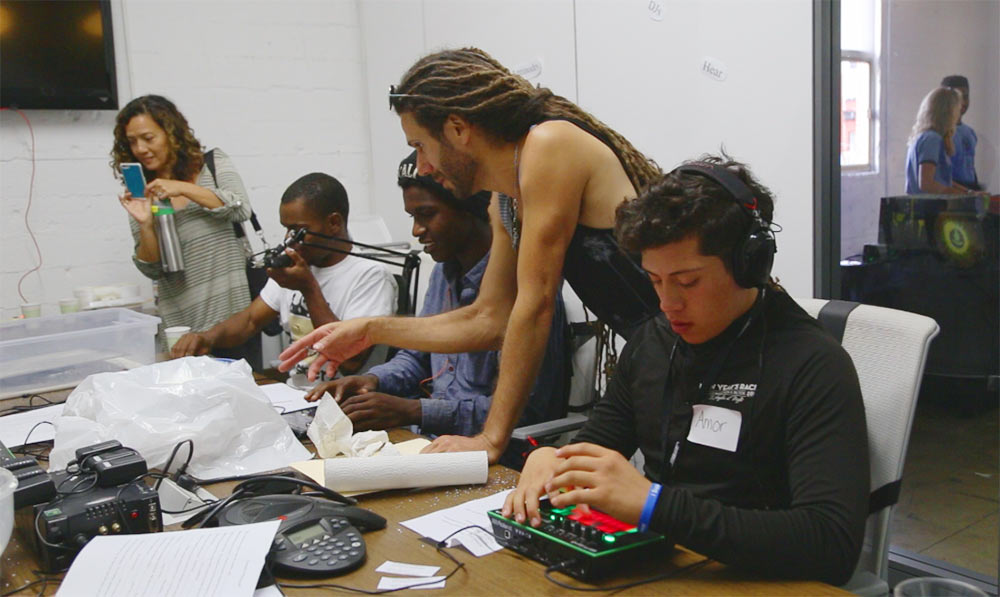 Together we replicated the early experiments of Ernst Chladni and observed the resonances of plates set in motion by sound frequencies.  Chladni's technique involved stroking the plate with a horsehair bow to show the various modes of vibration of a rigid surface. When the plate is covered with salt, the resonant motion divides the particles into different shapes based on the nodes of vibration. We replaced Chladni's violin bow with SUBPAC vibro-physical sound transducers and students we able to play, sing and manipulate the resonances into patterns.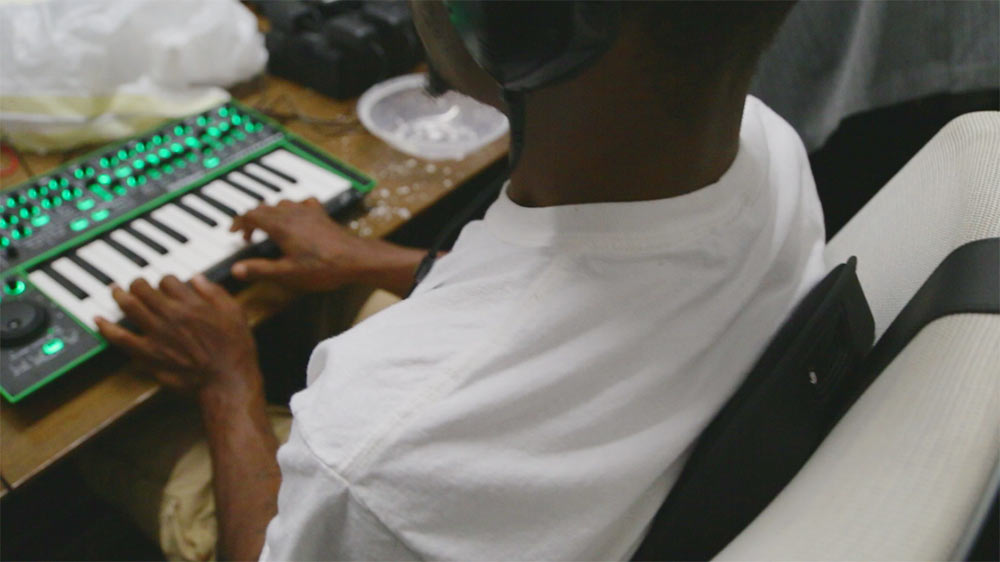 Continuing the study of physical sound, we were able to observe physical sound waves inside a Subwoofer filled with non-newtonian fluid.  Using a tone generator to set the woofer and fluid in motion, students were able to see the results of different waveforms and frequency changes.  When a non-newtonian fluid is disturbed it switches from liquid to solid behaviors.  This makes it easier to see the changes and study the nodes and anti-nodes.
The Muse Seek Project fosters inclusion and aims to open up the world of music to Deaf children across the Dominican Republic and the world.
Through Participatory Action Research methods, Maria Batlle, founder of The Muse Seek Project helps children in the Deaf community experience music.
In August 2013, she attended the Arts and Passion Driven Learning workshop held by Harvard University and Yo Yo Ma's Silk Road Project, where she met two Silk Road Ensemble's musicians (Hadi Eldebek and Cristina Pato) that are now also members of The Muse Seek Project.
Soon after, she embarked on a voluntary experiment in which she lived the life of a person that can not hear or speak for 2 months, in order to help her better understand the Hard of Hearing experience.
During this performance, Maria was invited by Microsoft as a speaker at their symposium about Change & Innovation, she presented The Muse Seek Project's vision -without speaking in order to raise awareness- with techniques that showed the audience the experience of Music Vibrations.
Recently, Silk Road Project granted her a scholarship to return to Harvard University this summer.
The Muse Seek Project has officially partnered with SUBPAC and will continue to make an impact in enhancing the quality of life for the Deaf & Hearing Impaired through the art of inclusion.