We recently had the amazing opportunity to collaborate with Hyperdub to showcase Kode9's forthcoming Solo Album 'Nøthing'. Los Angeles, San Francisco & London played city host to artist Kode9 for this experience – allowing guests the opportunity to experience tracks like 'Respirator' in an intimate setting with SUBPAC technology providing the low frequencies.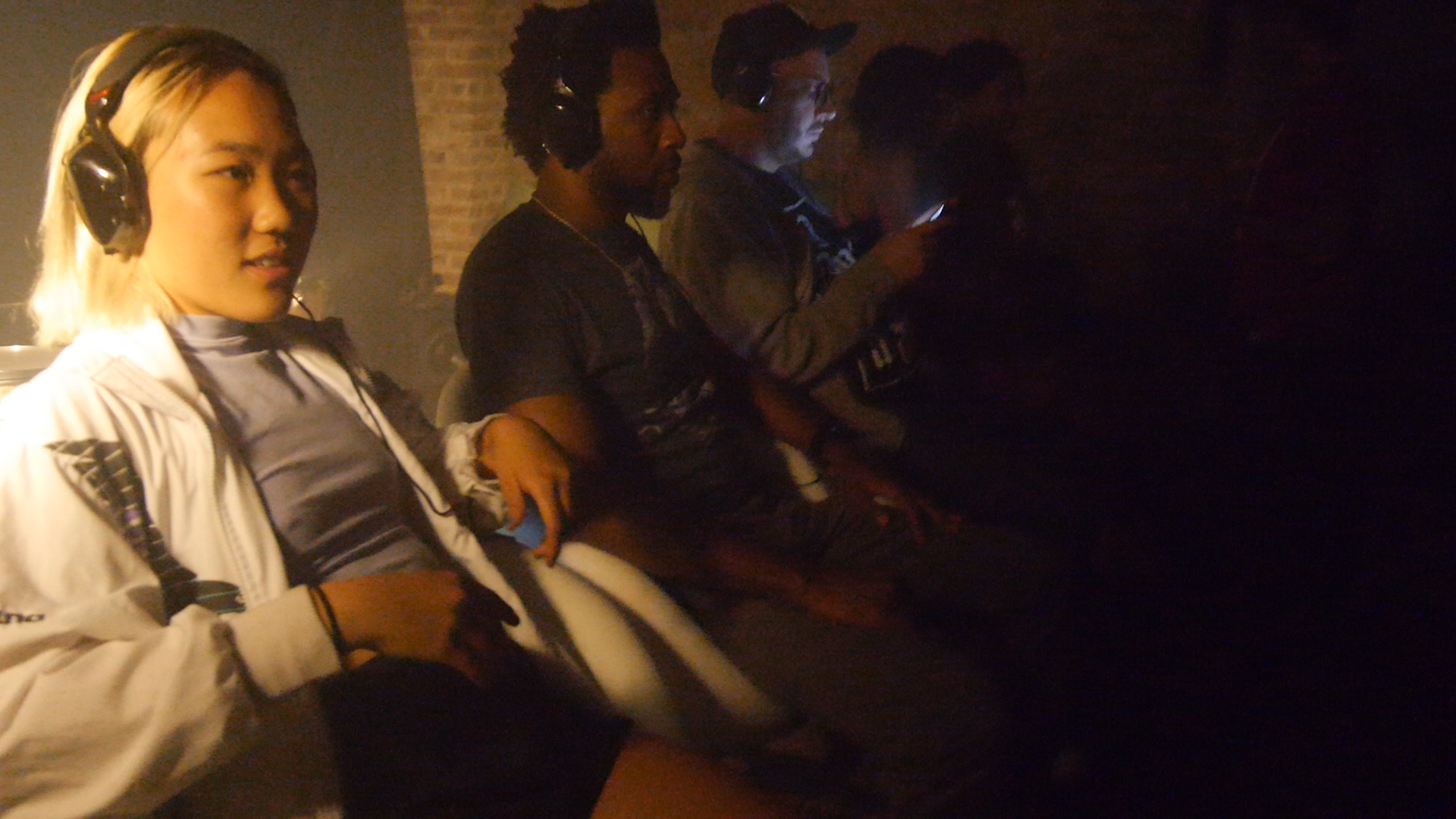 Give a Beat is a social justice organization that is focused on our privatized prison crisis.  A Positive Spin:Remixed was an event that gave SUBPAC a chance to connect students through music and academics in hopes of breaking the school to prison pipeline.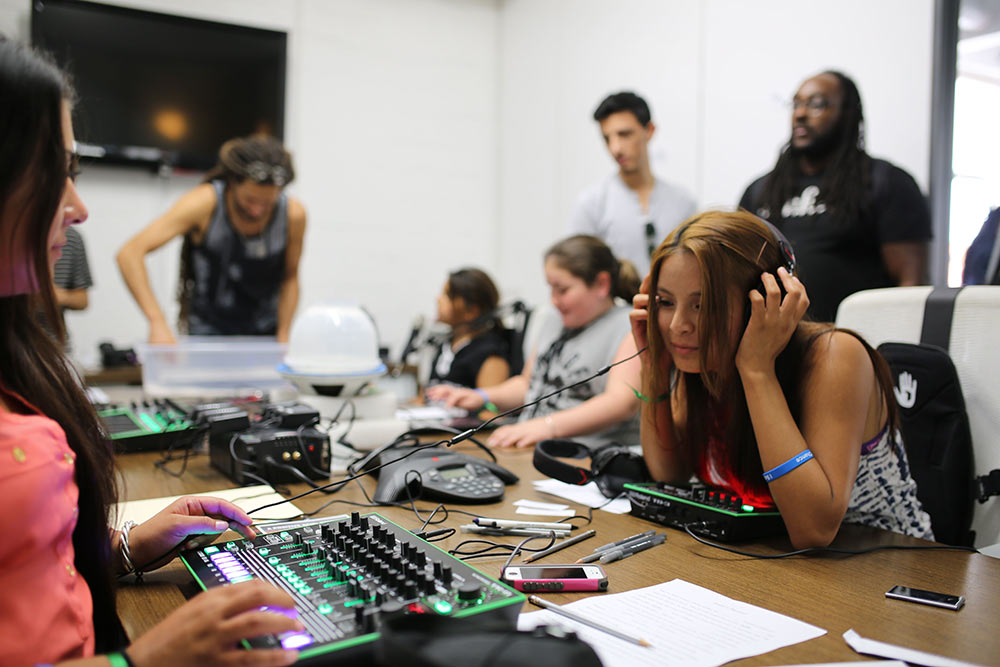 The SUBPAC education team held a youth workshop at the Give A Beat Launch Event to demonstrate sound physics concepts to students from local Boys and Girls clubs.  Students learned how sound travels in different mediums with "learning stations" using several Roland Aira synthesizers.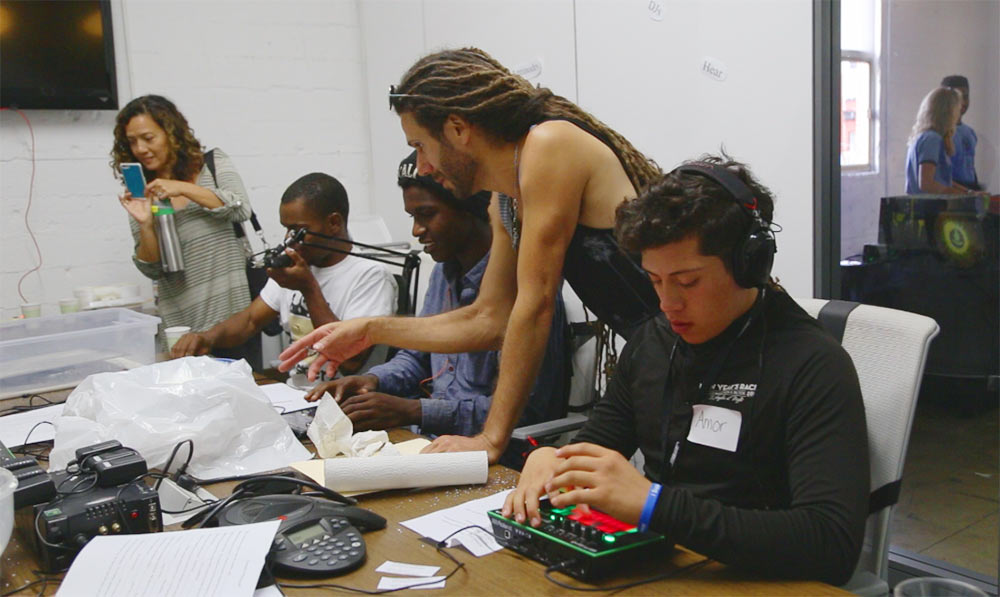 Together we replicated the early experiments of Ernst Chladni and observed the resonances of plates set in motion by sound frequencies.  Chladni's technique involved stroking the plate with a horsehair bow to show the various modes of vibration of a rigid surface. When the plate is covered with salt, the resonant motion divides the particles into different shapes based on the nodes of vibration. We replaced Chladni's violin bow with SUBPAC vibro-physical sound transducers and students we able to play, sing and manipulate the resonances into patterns.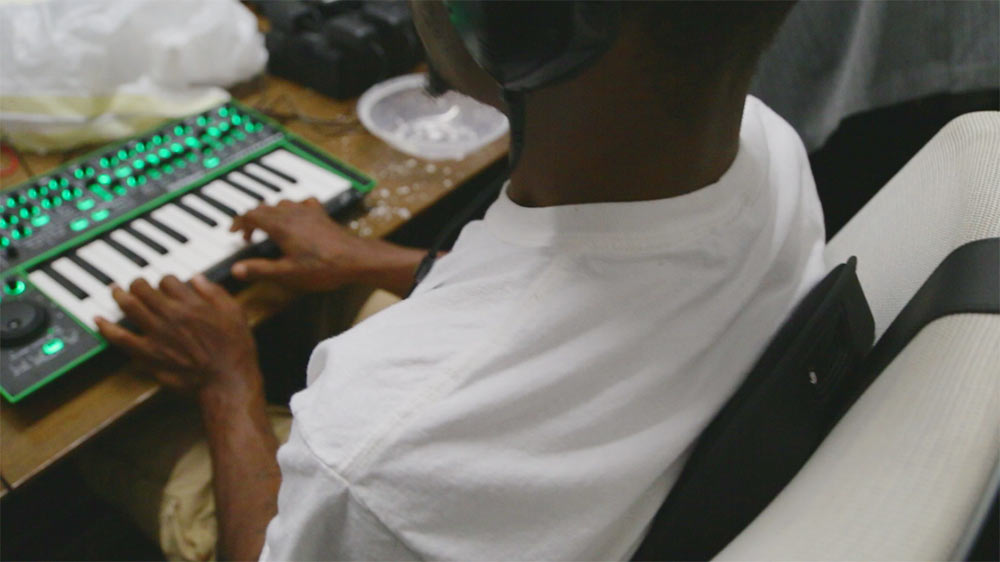 Continuing the study of physical sound, we were able to observe physical sound waves inside a Subwoofer filled with non-newtonian fluid.  Using a tone generator to set the woofer and fluid in motion, students were able to see the results of different waveforms and frequency changes.  When a non-newtonian fluid is disturbed it switches from liquid to solid behaviors.  This makes it easier to see the changes and study the nodes and anti-nodes.
Wearable technology adds the physical dimension of sound – anytime, anywhere.
LOS ANGELES, Oct. 14, 2015 — SUBPAC, the leading physical sound company, today announced its groundbreaking new wearable physical sound system. The new SUBPAC M2 now offers creators and fans the most immersive personal audio experience to date, allowing them to feel the physical dimension of sound wherever they are, while being quiet to the outside world.
The SUBPAC M2 combines new proprietary physical sound transducers and vibrophysical sound membranes with an all-new design to create an enhanced vibratory field for optimum efficiency, impact and comfort. A slimmer control box, Bluetooth receiver and high capacity Li-ion rechargeable battery allow the patent-pending M2 to go anywhere with ease.
Says John Alexiou, SUBPAC CEO and co-founder, about the M2: "We are on a mission to introduce the physical dimension of music and sound to the world. With the SUBPAC M2, we have created the most immersive wearable audio experience to date. Anyone can now experience audio the way the creator intended – full immersion, anywhere, anytime."
SUBPAC M2 – "Feeling is Believing" VIDEO
Used by leading producers and sound designers in studios around the world, SUBPAC technology has become the industry standard in physical sound for music professionals and enthusiasts. Equally applicable to gaming, virtual reality and beyond, SUBPAC re-imagines how sound is experienced. SUBPAC does not require any special authoring of the audio content and provides a simple plug-and-play, high-fidelity and immersive experience right out of the box.
The applications of SUBPAC technology have been pushed far beyond the realms of music production and enjoyment, including integration into Peugeot's "Fractal" concept car designed by music producer Amon Tobin, part of the VR enhanced premiere of Universal Pictures Jurassic World, and enabling the deaf and hard-of-hearing to feel music for the first time at this year's Rock in Rio festival in Brazil.
SUBPAC M2 FEATURES 
New materials and design for enhanced vibratory field.
New optimized physical sound transducers for improved accuracy and energy efficiency.
New ergonomic design for maximum impact, body contact and comfort.
Nano silver treated materials to control bacteria and odor from active use.
Slimmer control box with dedicated placement points on the unit.
Flexible control cable for greater ease of movement.
Bluetooth 4.0 input with A2DP streaming.
High capacity Li-ion rechargeable battery now runs 6+ hours per charge.
SUBPAC M2 TECH SPECS            
Frequency Response: 5hz-130hz
Wired Input: 3.5mm stereo
Headphone Out: 3.5mm stereo
Wireless Input: Bluetooth 4.0 with A2DP Streaming
Charger: 15V 1.6A 24W w/ Intl IEC-c7 cables
Rechargeable Battery: 10.8V, 2300mAh Li-ion battery (6+ hours per charge)
Dimensions: 17″ x 12″ x 1.5″ (43cm x 30cm x 4cm)
Weight (including battery): 4.8lbs (2.2kg)
Available for pre-order now at www.thesubpac.com/order/subpac-M2
Novation – their sounds have graced countless hits in the popular canon since the release of the original Bass Station synth in 1993. Over the next two decades their world beating synthesizer racks and in more recent times their range of plug-ins carefully modelled to faithfully recreate the sounds of a monophonic analogue synthesizer, as well as their industry standard midi controllers and DJ equipment have inspired generations of producers, musicians and performers. It is this heritage of quality, innovative design and affordability that have lead to Novation products possessing a prestige that very few other music technology companies can lay claim to.
The first iteration of the Bass Station arrived at the perfect time for the emergence of a new wave of electronic music in the early 90's. Its flexible and intuitive controls, coupled with its digitally synchronized analogue oscillators allowed users the freedom to create a range of sounds. For example it excelled at mimicking the timbres of other legendary synths, such as the TB-303, which it was directly inspired by. But more than anything, the Bass Station had its own sound, a truly flexible tone, veering from raw and crunching that could at the tweak of an oscillator could be mellowed out into a pulsing, warm all-enveloping bass tone. It is these revolutionary oscillators, designed by legendary engineer Chris Huggett that have lead to the Bass Station and its big brother, the Bass Station Rack being quite rightly regarded as classics in the synth world. In the words of another Novation legend, Olly Burke: "The amount of deep, satisfying bass and pent-up anger that this little beast can put out keeps surprising me even having it on my desk for quite a time. Get the sequencer running, free up 2 hands to tweak to sound into oblivion, and try and keep a check on the screw face!"
After the success of the original Bass Station it was the turn of the Bass Station Rack, released in 1994 to take up residence in the studios of producers the world over. Notable as being one of the first hardware synths released since the eighties, the BSR included traditional elements of an analogue synth such as syncing oscillators and LFO, but coupled with Novation's trademark synced DCO's for the ultimate in sound stability and the ability to store 60 patches, this was an analogue synth with digital sensibilities. The BSR turned out to be a winning combination, quickly becoming a huge hit that went on to shape the sound of the era in which it was first released.
For Darin McFadyen AKA Freq Nasty, who was ensconced in the early 2000's heyday of Breakbeat, the Bass Station Rack was always his first choice when it came to choosing a synth, "I was looking for a dope analogue sound but at a good price. Something that could do everything from 303 style screams to heavy bass stabs." It is this endlessly variable sound palette that attracted Darin and other producers such as Leftfield and Massive Attack when the the Bass Station Rack was originally released, "I used the first Bass Station as the main lead line and opening riff on my first single 'Booming Back 'Atcha' on Botchit and Scarper. It perfectly suited the outer space theme of the track and after playing with the legato and the filters I had the perfect Alien spaceship 303 sound I was looking for".
For the modern studio connoisseur the updated Bass Station, the Bass Station 2 is the latest in the Novation family of products. It possesses two filters, two oscillators plus a third sub-oscillator, patch save and a fully analogue effects section. Improving on the classic design of the original Bass Station, Novation have added a step sequencer, arpeggiator, full sized keys and a powerful modulation section, making this a visceral and invaluable addition to any studio set up.
Here at SUBPAC we are proud to be associated with Novation and their range of products. We really feel that the SUBPAC is a natural accompaniment to their range. So whether you're using a Launchpad in one of your DJ sets or exploring the outer reaches of sound with a Bass Station 2 you can feel every frequency with the SUBPAC.
We were very excited this week to be invited down by our friends at BMG UK to set up some SUBPACs for the album launch party for the new Leftfield project 'Alternative Light Source' at the incredible new central London venue Lights of Soho.
The new album is superb, and really comes alive on the SUBPAC, it comes highly recommended!
All in all, it was a great night! We hope to see you at the next event.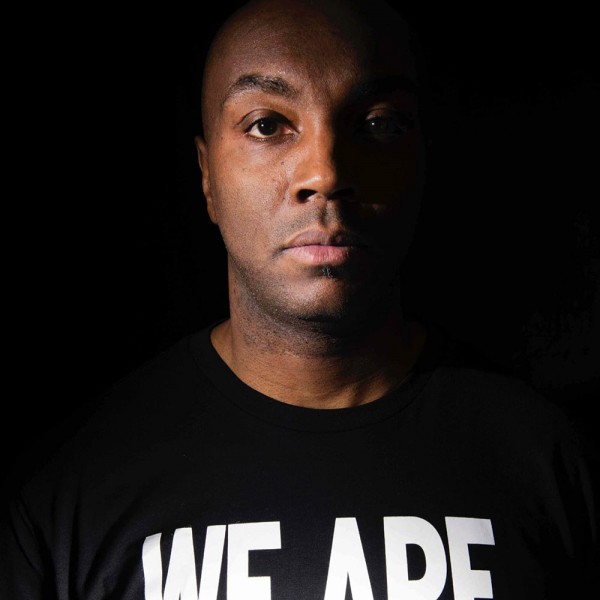 April 30, 2015
Oris Jay Unboxing Video
We love this video from UK Electronic music legend Oris Jay, AKA Darquan unboxing his…
Read More
SUBPAC is delighted to announce that we will be making our first appearance on the UK's premiere online bass channel Get Darker TV tonight!
Dubstep royalty Anti-Social Entertainment will be one the decks on the night. Special guests are under wraps for now, but we can assure you that you don't want miss out on this one!
The show runs on Get Darker TV from 6 until 10pm GMT, see you there.
With the global ascension of the headphone market showing no signs of abating yet, there are a wealth of different brands out there to match any and all tastes and requirements. And while it may be difficult for the conscientious consumer to decide what brand to go for in such an oversaturated marketplace, you can always rely on 
AIAIAI
 to produce powerful and sleek headphones for personal or professional use.
With an aesthetic influenced by the Scandinavian minimalism the founders grew up around and assimilated in Denmark, focusing on clean uncomplicated design with minimal branding, 
AIAIAI
's headphones have managed to successfully couple high design with professional sound quality, a rare feat.
We recently sat down with 
AIAIAI
's Frederik Jorgensen to talk about the origins of his company, co-brands and functionality.
1) Could you explain a little about your background, and how AIAIAI came to be?
I guess it all started 8 years ago when one of the other founders of 
AIAIAI
 and I had a nightclub in Copenhagen. We got access to this empty building called The A-house where we opened up a club on the rooftop, beside that we invited creative people in and ended up having more than 300 studios of artists and designers. Unfortunately, the place had to be turned into apartments, and we had to go on new endeavours, and when two old friends suggested headphones it seemed like the perfect idea, as there was a lot of opportunity to do something new back then and at the same time it was a perfect combination of music, art and design, which we had been working with during the years in The A-house. At that time the headphone market was completely different from today, and the products were pretty much either something you just got along with another piece of hardware, or something for audiophiles – obviously a lot have happened since then. our vision was to create products that were at the same time uniquely designed and thoroughly developed.
2) What is the company's approach when choosing who to co-brand with? How involved are the artists in the design process?
we like to work with people who inspire us and whos work we appreciate – whether being fashion brands, musical artist or labels. This way we hope the collaboration helps us get somewhere and that the products have new features or perspectives – we would like it to be more than just a logo marriage, but more about actually developing something together. Therefore the process is also often long and we invite the partner in on all decisions in order to end up with something we all appreciate and are excited about.
3) Your products are very sleek, with minimal visible branding. Where does this aesthetic stem from? Anything in particular?
I think this very much comes from our Scandinavian roots. Its not really a formal manual for us, but more a result of all the iconic designs and architecture we have been surrounded by growing up in Denmark. There is a tradition for Functional design, which we relate to, where three is a lot for focus on details and at the same time where decision in the design is made to create a better product. We don't like when products are overly branded and full of glitter – to us that does not have a meaning, and we would rather create a design which in its uniqueness can replace a logo.
4) Do you have a personal favourite product from the AIAIAI range?
That's like choosing between your kids! I do however think that the 
Young Guru edition
 from a functional perspective is very nice product
5) What can we expect from AIAIAI in the future? Any new products on the horizon you'd like to share with us?
Big things I hope. We are working on some pretty exciting stuff for next year, which will be the biggest news since we launched the TMA-1 4 years ago.